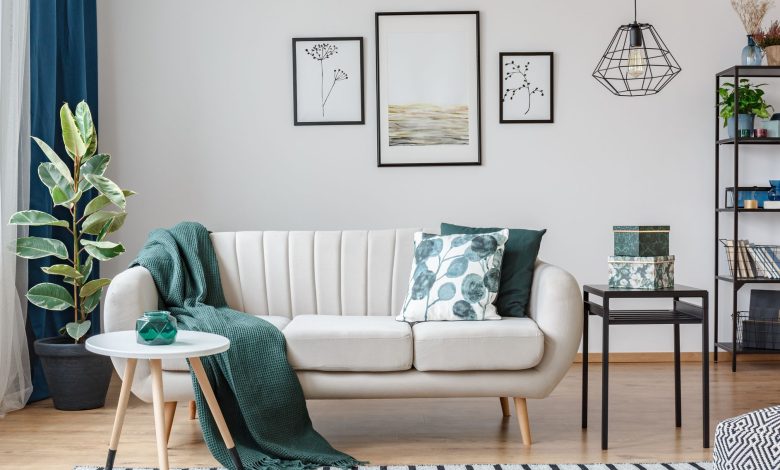 Last Updated on August 22, 2022 by rabiamuzaffar
To bring a nostalgic pull of the ingenious architectural design of the 1950s, nothing works best but mid-century modern furniture!
However, when it comes to designing home interiors, the trend is taking modern-day homes back to times of the mid-century. Mid-century design furniture is hunting the market as mass-produced society has made many homeowners crave something custom-made and unique.
Ever wonder how to bring the organic influence of mid-century furniture to your home? Here are some great ways that you can incorporate to get a warm and relaxed retro twist for your space.
Table of content
Provoke more wood element furniture to your interior
Remodel your space with mid-century furniture elements

Organic and geometric shape furniture
Minimal ornamentation
Bringing nature indoor furniture
Marshmallow sofa
Diamond Chairs
Add glam with mirrors
Incorporate earth tone colors
Focus on light fixtures
1. Provoke more wood element furniture to your interior
Most of today's furniture is composed of engineered pressed wood. To add a flair of mid-century modern look and feel, let the real wood take center stage via the high-quality furnishings of the 50s. The mid-century masterpieces have clean lines of teak, walnut, oak, and rosewood.
Maybe hunting for these old pieces seems like too much work and needs a high budget. Moreover, there are a bunch of replications available to mimic these elements.
2. Remodel your space with mid-century furniture elements
Do you value where you live and want to add the marvels of mid-century character to your home? You can do this by remodeling your space and adding mid-century elements. Moreover, consider hiring a design architect to help with some remodeling. Here are some quick elements you must consider adding to your space.
Organic and geometric shape furniture
Mid-century modern style concentrates on clean lines with a mix of organic and geometric shapes. It is often the simplest furniture pieces, like rectangular tables and egg chairs, that are the most visually appealing.
Minimal ornamentation
Mid-century modern fashion comes without clutter or redundant ornamentation. These interior designs focus on the simple basics, for example, with just a few pieces to complete the look.
Bringing nature indoors furniture
It is more common to find large sculptures or plants in mid-century design, whereas trinkets, attics, and garages are less common. It is a great way to emulate this classic look to incorporate natural elements into the interior, including living house plants as decor.
Marshmallow sofa
The marshmallow sofa is a famous piece of furniture that comes in a variety of designs and styles. With its elegant composition and comfort, it is a colorful, eclectic piece for a 1950s living room.
Diamond chairs
While wood is still popular, the diamond chair is a part of a full mid-century modern design series. It included lounge chairs in the same shape that are upholstered in fabric. As a result, they add a touch of class to any room.
3. Add glam with mirrors
No matter what style of interior you choose, mirrors are the perfect design supplement. Mirrors bring an airy feeling to any room in your home. If you place the mirror properly, it can make a space look bigger by reflecting light into a room. It also highlights a beautiful backyard landscape by placing it opposite a garden door or window. Such mirrors served as symbols of this era. However, it is an indispensable accessory that will bring a touch of mid-century to your home. You can find plenty of replicas online or in stores.
Read More: A complete guide for buying office furniture
4. Incorporate earth tone colors
Color schemes with earth tones paved the way for bold, bright colors. A mid-century design is all about creating balance and consonance among each element. You can pair it with other colors or use it for a clean, monochromatic look. The earthy coloring reflects the handcrafted, organic nature of the mid-century modern design. Using wood to furnish a room is a very common aspect of achieving a mid-century modern style. That is why interior designers always recommend a living room decorated in earthy colors.
5. Focus on light fixtures
In the mid-century modern home, you will definitely notice dazzling modern wonders hanging from the ceilings or illuminating the sleek side tables. Therefore, try to incorporate beautiful lighting into your space. Light fixtures and pendant lights with unique aesthetics are not only functional but also pieces of sculptural art. Certainly, bold lighting is another must-have accessory to take your home back in time to this artistic era of mid-century. Here is some more information about 7 Things to Consider Before Buying a New Mattress
Conclusion
Despite the passing of time, the mid-century modern movement continues to evoke nostalgia. As a matter of fact, it seems the art and architecture of that time have only become more admired. Do not be afraid of mixing the timeless look of the mid century furniture in Houston with your home composition. Focus on adding wood elements with geometric shapes.
Author bio:
Hi! I'm Komal Fatima, a content writer with 2 years of experience. I write SEO articles, website content, blog posts, guest posts, and copy writings for businesses that want to see their Google search rankings surge. I also have extensive experience with content marketing. Until now, I have completed a number of projects ranked on Google's first page in this field.