Food
Grazing table: Everything You need to know about upcoming food trends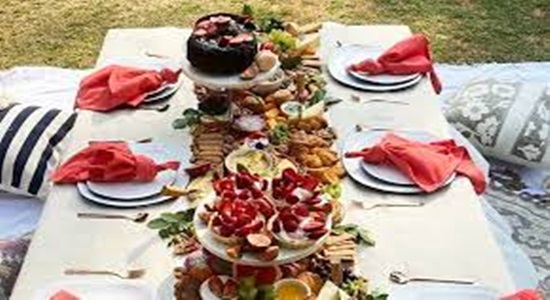 Last Updated on March 15, 2023 by Ahmad Shahzad
If you are looking for something inviting, unconventional, and impressive for your next party or get-together, a grazing table in Sydney is your answer. It is one of the major food trends that is being accepted for almost all sorts of events.
You can consider a grazing table as a buffet that is arranged with much greater visual appeal. It also makes it much easier for the guests to nibble at the dishes. Conventionally, it is organized on a table. However, you can pick a large platter, counter, a wooden board, or any other flat surface that is large enough to home your food.
Grazing table vs buffet
Unlike a buffet that is typically a well-organized collection of chafing dishes, a grazing table is an artistically arranged pile of finger food. The dishes intertwine, overlap, and even spill to create a lively piece of art.
The food not only tastes good but also looks delicious. While a buffet is arranged in a sophisticated manner, a grazing table is a beautiful adorable picturesque mess. You can think of a grazing table as organized chaos loaded with delicious food.
Why opt for a grazing table over other options?
Thinking of throwing a party or planning your next corporate event? You can find yourself juggling between several options when it comes to choosing the style you want to go with. You can pick a traditional and formal table setting, buffet, or more.
So what is it about the grazing table that is creating so much buzz? Here are a few compelling reasons propelling people to choose a grazing table over other options.
It is a low cost, low maintenance arrangement
Instead of topping a chafing dish, you can enjoy more with your guests
It offers an all-round wholesome eating experience
You can be as creative and innovative as you want while compiling your table
Essentials for grazing table you should keep in mind
Food is the center of all grazing table parties. It lets you experiment with the taste and looks of the food and get super-creative and artistic with it. However, other elements help you boost the oomph of your table.
Go with a theme
How you set up and compile your grazing table has no limit. Choose any theme that goes well with the corporate event, occasion, or tentative guests. You can then choose everything including food, serving platters, utensils, decorative serving pieces, props, and other decorations according to the theme.
You can use numerous items such as fresh flowers, candles, jars, greenery, and more to spruce up your table. Also, you have endless theme options such as Christmas, Mediterranean, rustic, whimsical, sweet treat, etc.
Get enough crockery and props
To deck up a creative and attractive grazing table you need to have ample pros and crockery. Invest in decorative serving platters, boards, tiered stands, cake stands, domes, etc. These things help you create playful terrain with different heights. You can go with neutral-colored crockery that blends perfectly with all sorts of themes.
Use fresh for ornamentation
Some freshness to the table can always be a great addition to elevate its appeal and the mood of the party. You can handpick some fresh flowers, herbs, and other greenery that delivers texture and visual interest to the table.
How to Build the Perfect Table for Any Occasion?
If you're planning a party, corporate event, or gathering with friends, a grazing table is a perfect option to make a statement. It's an impressive way to serve finger foods while creating a visual masterpiece that will leave a lasting impression on your guests.
Start with a theme
The first step in creating a grazing table is to choose a theme that fits the occasion. You can go for a rustic look with wooden boards, burlap runners, and earthy tones, or opt for a whimsical and colorful table with bright tablecloths and playful decorations. Once you've decided on the theme, you can start selecting the food, serving platters, utensils, and other decorations to match.
Choose the right crockery and props
Invest in decorative serving platters, boards, tiered stands, cake stands, domes, and other props to create playful terrain with different heights. You can mix and match different materials such as ceramic, glass, and metal to add texture and interest to the table. Using props like jars, crates, and baskets can also add depth and dimension to the table.
Use fresh elements for ornamentation
Adding fresh flowers, herbs, and other greenery to the table can create a beautiful and natural look. You can incorporate small vases of flowers, herb pots, or greenery garlands into the table to bring life and color.
Arrange the food
The food is the centerpiece of any grazing table, so make sure to arrange it attractive and eye-catching. Start by placing larger items such as cheeses, meats, and bread in the center of the table and work your way outwards.
Read More: Choose a site to board your horses