Tech
Everything You Need to Know About eSIM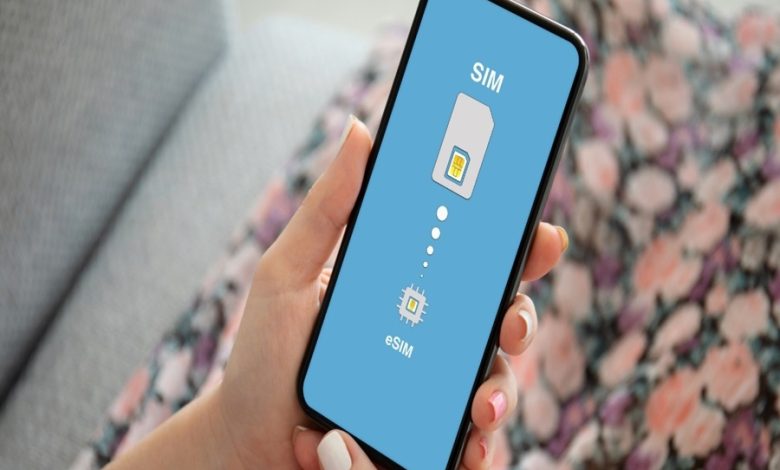 Last Updated on November 14, 2022 by hassan abbas
If you travel abroad, you've undoubtedly heard that changing your phone's SIM card is simple to keep using for internet and calls while on the go. With more than 1.5 billion international visitors expected by 2020, cell phone companies worldwide offer temporary cards to cross-border visitors. When you'e in abroad you need to join eSIM.
When you're dealing with one group of cellular carriers in the US States and an entirely different group when you cross the border into Mexico, things become complex. We've grown so dependent on our cellular data that going without it makes us feel unsafe. If there was only a universal SIM card that operated anywhere, you went!
It's time to join the eSIM, an embedded SIM incorporated into your smartphone that allows you to access without needing to alter a physical card when traveling abroad.
But what is eSIM, and how does it work? This article will bring you through the world of this sim so that you may remain connected wherever you go.
Its Introduction
A SIM is a small gold and plastic card in your mobile containing all the data needed to authenticate who you are to a cellular company. This SIM card verifies that you are who you say you are and that you have permission to access their network.
The SIM has gone digitized, just as we've replaced most of our computer equipment with cloud storage. Because this sim is software-based rather than hardware-based, it opens up a whole new universe of options.
The eSIM has existed for a couple of years and focuses on commercial users who utilize it in RFID or IoT connections. However, after Apple introduced these sims to the iPhone, other companies such as Samsung and Google followed suit, and we should begin to see a more extensive acceptance by smartphone users.
Currently, most smartphones on the market do not have a feature of eSIM. However, this will change shortly. The Motorola Razr flip was the initial eSIM-only phone released just a few years ago, whereas most other phones used dual-SIM. However, the market predicts conversion to eSIM-only smartphones over the next several years. Furthermore, as eSIM phone shipments expect to treble this year, finding a phone that will allow you to use this sim will become progressively accessible.
Read More: Bast Top 9 Technology Trends in 2022.
eSIM Carriers and Devices
You should have an eSIM-enabled device or phone to use this new eSIM tech. The following is a list of a few current eSIM mobiles:
Motorola Razr 2019
Samsung Galaxy (S20 Ultra, S20+, S20, S21 Ultra 5G, S21+ 5G)
iPhone (11 Pro Max, 11 Pro, 11, 12 Max Pro, 12 Max, 12, 12 Mini, XR, XS Max, XS, SE 2020)
Samsung Galaxy (Z Flip, Z Fold2 5G, Fold)
Samsung Galaxy Note (FE 5G, 20 FE, Ultra 5G, 20 Ultra, 20+)
Huawei P40 Pro and P40
Nuu Mobile X5
Google Pixel (3XL, 3, 3A XL, 3A, 4XL, 4, 4A 5G, 5)
myPhone Hammer (Explorer Pro, Blade 3)
The use of eSIM in other consumer devices is growing as well. The Apple Watch, Surface, and iPad all have eSIMs, as do several modern laptops, including the Lenovo models, Dell Latitude, and ACER Swift.
In the short term, finding a cell network that provides eSIM operations is still challenging. However, by 2020, more than 200 cellular carriers will have accomplished so, making it a matter of time until it becomes the norm. For example, in the United Kingdom, eSIM is available from Vodafone, O2, and EE. Verizon Wireless, T-Mobile USA, and AT&T provide eSIM in the United States.
You may also find applications and services that connect compatible carriers, making it simple to compare deals from various countries. We provide the Goodspeed application for iPad and iPhone based on current eSIM tech.
Benefits of eSIMs
When traveling, an eSIM can save the trouble of interacting with many carriers in multiple countries and saving valuable vacation time spent looking for a roaming card and signing up for a plan. Moving to an eSIM comes with many advantages, including practical ease and the SIM swap prevention. To give you a quick summary of the benefits of using an eSIM, we've compiled the following list:
Flexibility
Create two phone numbers, one for personal usage and the other for business.
It's simple to swap network operators.
Users can use it on tablets, laptops as well as mobiles.
When utilizing data with eSIM, keep your primary phone number active.
No roaming charges.
You can easily incorporate them into wearables because of their small size.
Convenience
You don't have to visit a carrier store to top your card.
If you pre-purchase a SIM card, you won't have to wait for it to arrive in the mail.
There are no small cards to maintain track.
It's simple to set up and use.
Getting a SIM card is free because there is no need to pay for shipment.
These advantages should be available regardless of which carrier or device you use.
Get Started With eSIM.
If you've double-checked that your device or phone supports eSIM, you can start leveraging one straight away, whether for everyday use or travel. Whether you're utilizing a dual-SIM smartphone, an eSIM device, a tablet, or another device, the same method.
The methods to set up your packages may vary based on the application or service you use, but the fundamentals are as follows:
Choose/order your eSIM and plan
Receive a QR code or/and a verification code by email or a mobile application.
Add the plan to your device:
Android Phones – Settings > Internet & Network > Mobile Network > Carrier > Add Carrier
iOS Phones – Settings > Mobile/ Cellular data > data plans
Scan the QR code or use your eSIM-compatible application to help you.
If a verification code required for eSIM activation, enter it.
Set preferences
Read More: All the iPad models till date