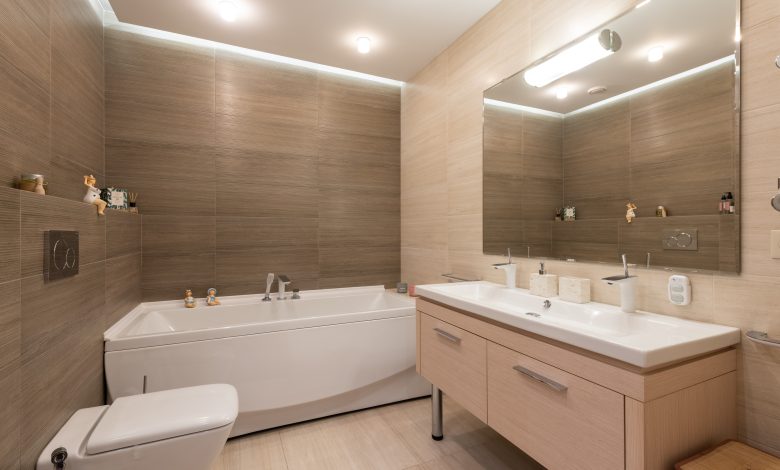 Last Updated on August 20, 2022 by
Design experts predict the renewed focus on our bathrooms as sanctuaries within our homes. Get information on current styles available in the industry and find inspiration on what next when remodeling for the toilet. Trends can sound temporary like they will be there for a season and go, but often directions turn to a classy, timeless look. Here are bold bathroom trends that should take over your homes:
1. Colorful Tiles And Pattern
Dark bathroom ideas had their time. It's time to pave the way for eye-catching designs and colors. If the thought of a dark bathroom gives you a sense of dullness and boredom, then turn to bold colors and designs that make your bathroom pop. Grey was one of the popular styles in the past years for modeling bathroom projects, but times are changing. We are going into bolder and warmer styles now. Warmer color tones have started to pick up and, as time goes, will continue to gain popularity. For example, green and pink can be a classic integration of colors for bathroom tiles. The two shades, when combined, are soothing and have a dreamy effect of cool ice cream on a hot day. With that, the bathroom mood will be joyful and with a relaxation effect. The bathroom can be an adventurous place with what colors you opt for and how you use the colors.
2. Bathrooms From The Future
This year let your bathroom get a high-tech upgrade. It is time to go against the traditional bathroom layout. A toilet and sink combo unit might be what you are looking for in your bathroom. This combination offers a practical storage option beneath the sink and considerable space to spare. This combo is both an easy and stylish solution to renovate your bathroom. The basic idea of a toilet and sink being combined is the communication between each other by recycling the water being used.
For example, the water you will use to wash your hands on the sink will be recycled and will now flush the toilet.
3. An Advanced Modern Bathroom Mirror
Why not make a statement on your decor journey with a modern mirror? In this era, mirrors are not just a pane of glass to check your make-up. Mirrors today are becoming more innovative. Mirrors now have anti-fog/steam technologies, USB charging stations, and even intelligent touch abilities. You can get as creative as you can imagine when picking out the exact shaped frame style you want. Better yet, an essential detail of the bathroom mirrors is lighting. Back-lit mirrors are a more sensible option because they will allow optimal lighting. Lights in the front create space for more creativity but distract from an asymmetrical mirror. Let the options you decide on reflect your inner personality, whether you pick an intelligent mirror with fog-free settings or an ornately framed mirror.
4. Have a Bathroom Slogan
As the world keeps advancing technologically, people are growing into communicative souls that love to speak up. Add personality to your bathroom and avoid a clinical feeling through slogans. You cannot only use microblogging sites and telephones to let your voice be heard. You can use your interior designs to express your opinions. So express it with all your heart by incorporating slogans in your bathroom idea. It can be a quirky quote from a celebrity or someone famous.
5. Built-in Storage For A Tidy Look
If you desire to create a minimalist space in a modern bathroom, investing in built-in storage is the best way to achieve that. Bathrooms now display more straightforward ways to minimize item storage and the space needed. Cabinets and other compacted storage areas presented in a simplified manner justify minimalists' habitats. This lifestyle has been proven to help people relieve while at the same time keeping you organized. Even when your other rooms are not as contained, the bathroom, which is a relaxation sanctuary, can comfortably provide just that. In-built storage will make the bathroom appear less clustered while also making the bathroom feel open and organized.
Take note that a modern bathroom does not always mean minimalist decor. You can get more insight online and decorate your bathroom to be modern and trendy.