Lifestyle
How to Create a Super Relaxing Spa Experience at Home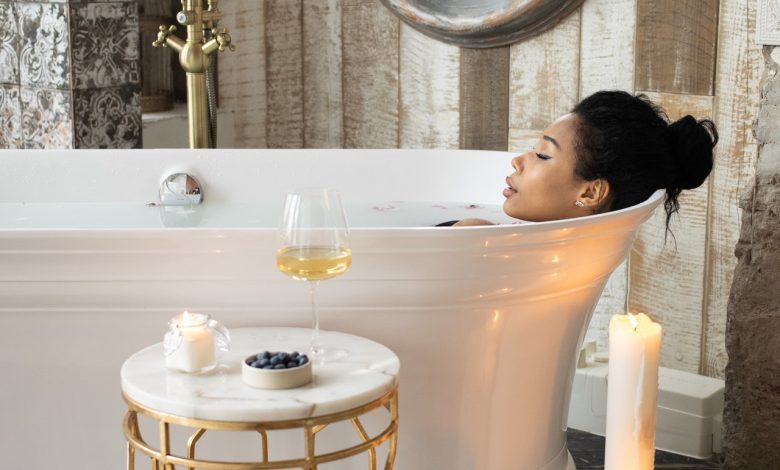 Last Updated on November 14, 2022 by
Everyone needs some little relaxation because of a busy schedule. After a long day at work, the best thing you can do is to treat yourself to a relaxing and soothing spa day at home. It's important to devote a few hours to rest and relax in the form of a home spa day. To make this happen, you can follow the tips mentioned below.
Set an Exciting Stage
The first thing you need to do for that fantastic spa experience is to set the evening by ensuring you have a clean bathroom. Also, prepare some fresh, warm towels. That is all you will need and ensure that you are alone, without your kids, spouse, and pet's disturbance.
"Light some aromatherapy candles and dim your lights. This will create the perfect atmosphere. You can also put on your favorite relaxing music and enjoy a glass of wine. If you would like to relax in a sauna, you can check out an infrared sauna for sale. An infrared sauna has heaters that will warm your body directly, giving you a relaxing spa experience at home."
Have Some Hot Towels Around
If you are giving yourself a facial, you will need some hot towels near you instead of running back and forth to your sink to wash the face. Soak your soft cotton towels in hot water and wring them out until they become slightly damp.
Use your towels to wipe your face and remove any product. You can add a few drops of essential oils to your water, for instance, lavender and eucalyptus. As you wipe your face with the towel, breath in and get all of the oil's aroma-therapeutic benefits.
Engage All Your Senses
The main reason visiting a spa feels amazing is that it engages all of your senses. As you set up treatment at home, you should also do the same and incorporate pleasing elements to all your senses, including sight, smell, taste, touch, and hearing. Candles, soft music, dim lights, a glass of wine are some of the little add-ons that will make your relaxing spa experience at home extra special.
When picking the best songs, you should try those without lyrics. Instrumental songs are better than tunes with words since they won't trigger your subconscious memories or raise your stress levels.
Make a Facial Mask
Without a doubt, you need a good facial mask to make the best out of your home spa experience. If you have some stubborn blemishes, you should make your DIY mask. You can mix a tablespoon of turmeric powder, raw honey, and milk. Stir until the mixture is thick but not runny.
Apply the mask on the face and leave it for about 10-15 minutes before rinsing it. Turmeric acts as an anti-inflammatory, while honey has antibacterial properties. Milk contains lactic acid that will exfoliate and leave your skin complexion radiant and clear.
Soak in a Bathtub
With the DIY treatments, they may get a bit messy, and therefore you will need to take a bath or shower to remove the treatments. A long soak in a bathtub will do the trick and get you cleaned up. Run a bath, and if you have been feeling under the weather, you can make a healing and soothing bath. To do this, add some Epsom salts in your bathwater, as they will ease muscle soreness and relieve tension. Epsom salts have magnesium sulfate that quickly soaks through your skin right into any swollen or aching joint to help get rid of the pain and inflammation.
If you suffer from constant headaches and flu symptoms, you can add freshly grated ginger to your bath water. Ginger will help you release toxins through sweat while clearing chest and nasal congestion.
Do a Thorough Scrub
After soaking in the tub for about 15-20 minutes, you can give your whole body a good and vigorous scrub using an exfoliating body scrub. You will love how soft and supple the skin will be afterward. The Epsom salts and oils will soften and detoxify your skin, while the exfoliating scrub will wash the toxins out of the body.
Once you are out of the bathtub, remember to moisturize your skin properly as hot water makes the skin dry and strips it of its natural oils. Heavy-duty body oil and a good facial moisturizer will lock in all the moisture left on your skin and give you a radiant glow.
Conclusion
There is nothing as exciting and fun as a day spent at a spa. The pampering makes you feel whole again, but when your schedule does not allow you to visit a spa, you can create your little heaven at home. With the tips mentioned above, you can recreate a spa-like experience at your home and feel great afterward.
Read more: The Amount Of Space Between Electric Fireplace And TV?