Travel
5 Tips to Help You Sleep Comfortably While Camping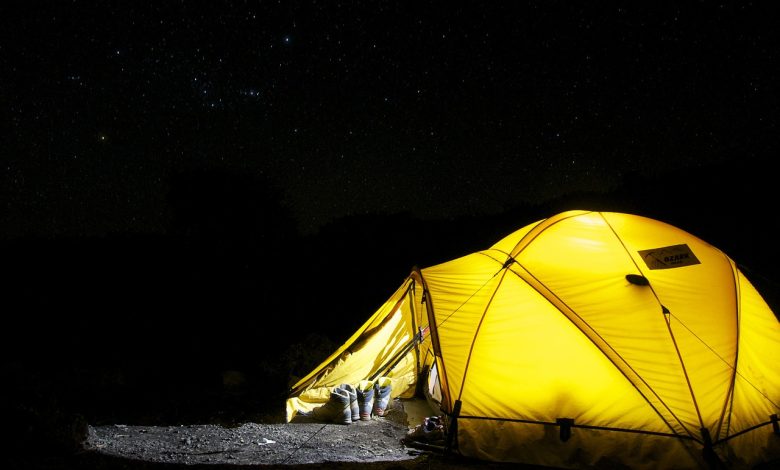 Last Updated on August 22, 2022 by rabiamuzaffar
Camping is one of the most enjoyable outdoor activities because you get the chance to interact with mother nature. It's not as simple as it appears to get decent sleep while camping.
You have to prepare adequately and put all the correct measures in place, including warm beddings. Sleeping on the ground can be difficult due to crowded tents and harsh winds, turning your sleep into a nightmare. However, this should not be the case; here are five tips to help you sleep comfortably while camping.
Have some Cozy Tent Beddings
Aside from your sleeping bag, it would be best if you bought other camping equipment, including sleeping pads, pillows, and air mattresses. The sleeping pads are available in various styles, such as self-inflating air and closed-cell foam, each with its own set of uses and advantages. You should select the one that is less in weight and easier to move, considering the size of your tent.
If you have adequate space, you can carry a pillow from home. However, if you will be shifting from one camp to another, an inflatable camp pillow is the best. Compared to other pillows, the inflatable is easily compressed and slipped into your backpack, facilitating easier movement with it anywhere you want.
Examine your tent bedding ahead of your camping vacation if at all possible. Before embarking on your journey, ensure the air mattress is fully inflated. You can even sleep on it the night before to see if it is the best, or you will look for another alternative. Also, consider the various camping mattress sizes to help you select the best choice for your sleeping destination. Pack a tarp to ensure you don't sleep on wet beddings in case of a downpour.
Look For a Good Area to Set Your Tent
A flat location as possible will be a good option for you. Clear any pebbles that may be on-site to ensure they do not damage your air mattress and deflate it. Additionally, you want to get away from any bodily discomforts that can injure you, as well as any noisy terrain that can distract your sleep. Before setting up a tent, assess the area to see how noisy and comfy it is.
Always set up your tent at the end, away from rowdy neighbors if you use a shared campsite. Similarly, make sure your sleeping bag is oriented such that your head is higher than your body when the camp terrain is hilly. The position will facilitate the proper flow of blood when you are asleep.
Invest in A Good Sleeping Bag
There are several sleeping bags in the market, and they aren't all made equal. If your camping will take many days, ensure you look for a quality sleeping bag. They are divided into two categories;
Car Camping Sleeping Bag
They are usually extensive, and they can be unfastened to become a blanket. It provides a more wriggled area but does not retain much heat. They are a perfect alternative when you camp in hot climatic regions.
Backpacking Sleeping Bags
They are usually light in weight, and the mummy form helps them retain body heat. The backpacking sleeping bags are suitable for campers in cool areas and on the move since they are easier to transport.
Insect Control
There are many disease-causing insects such as mosquitoes while camping. Ensure your tent and RV's screens don't have any holes. Get mosquito netting to shield yourself even more. Bug sprays can also be beneficial. Additionally, you can carry a solar-powered lantern that you will charge during the day and use to repel mosquitoes at night.
Food should be stored and disposed of safely. It is just not camping etiquette, but it also keeps bears at bay. You will have a comfortable sleep at night knowing you are safe.
Maintain Your Composure
Even if you arrive prepared and meticulously follow all guidelines, keep in mind that sleeping in a foreign area can be unnerving. So, it's pretty normal to have difficulties going to sleep the first few nights or to wake up at the slightest noise. When that happens, be calm and take a deep breath, meditation, and muscle relaxation exercises to enable you to focus. If you are going to sleep alone, ensure you pack a book and a lantern to read by.
Wrapping Up
Performance is built on the foundation of sleep. It has been proven that obtaining adequate sleep improves your physical and mental health beyond a shadow of a doubt. Every day, especially when going on a camping trip, getting a comfortable sleep should be a top priority.
Read More: 5 Tips to Clean Your Gas Oven